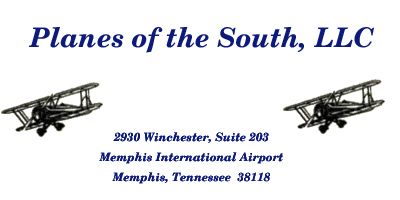 Planes Of The South LLC
2930 Winchester Ste 203
Memphis, TN USA 38118
Contact Information
Tony Iacobucci
(901) 398-2682
It will be our pleasure to help you in any way possible and invite you to take advantage of 35 years experience in the General Aviation field.

Our specialty currently ranges from clean, single and twin piston engine aircraft to King Airs and Cheyennes .  In addition, the Corporate Jet market is followed closely with emphasis on Citations.

We are also proud to be affiliated with New South Aviation, LLC the authorized Cessna CSTAR for Tennessee, North Mississippi and South Central Kentucky.  Please give us a call for your new Single Engine Cessna needs.  We also have a selection of fine used trade-in Aircraft.
Company Listings
No Listings Currently Placed