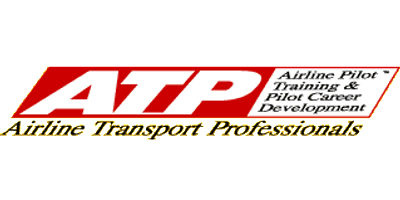 ATP Flight School - Airline Transport Professionals
1555 The Greens Way
Jacksonville Bch, FL USA 32250
Contact Information
Airline Transport Professionals
(904) 273-2164
Airline Transport Professionals Airline Career Pilot Program provides the training airlines look for in pilot applicants. Regional airlines hire more pilots from ATP's Airline Career Pilot Program than from any other single flight school.

ATP students get the competitive edge with airline-oriented flight training at a fixed cost in the shortest time frame. They receive instruction from the most qualified instructors and proudly fly the world's largest multi-engine fleet coast-to-coast in a scheduled, monitored, airline-style environment using airline-standard Jeppesen IFR charts and approach plates.

The multi-engine experience gained in ATP's Airline Career Pilot Program will get you more career opportunities than possible through any other flight school, FBO or academy. With over 100 hours of multi-engine pilot-in-command flight time, you will meet most insurance and airline requirements for employment and be ready for the next wave of hiring. Regional airlines and corporate and fractional operators will hire only the most qualified applicants. The higher level of qualifications this program provides is the first step in setting you apart from your peers.

Research your flight training options, and you will find out why so many successful professional pilots choose ATP.