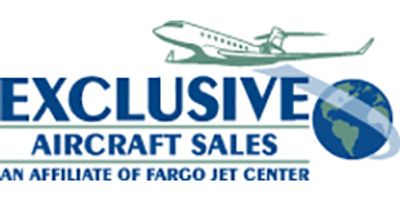 Exclusive Aircraft Sales
14801 Pioneer Trail
Eden Prairie, MN USA 55347
Exclusive Aircraft Sales is an affiliate of Fargo Jet Center, Inc. (Fargo, ND), one of the finest FBO facilities in the upper Midwest and ranked among the top 10 FBO's in the country. We offer sales, acquisition and brokerage services in all aircraft markets and are proud to serve Minnesota, North Dakota, South Dakota and Western Wisconsin as the dealership for new single-engine, Cessna aircraft.

Fargo Jet Center, Inc. opened its business with one goal in mind - to give customers a quality product and un-ending service.  Exclusive Aircraft Sales continues that tradition and our core specialties provide the foundation for exponential growth. 

Whether considering new or used, acquisition or resale, Exclusive Aircraft Sales is the right partner, before and after the sale.