AOPA WORLD MASTERCARD - THE PILOT'S CARD Credit Cards | Services

Business | Personal Services
Credit Cards | Services
Frederick, MD USA
Business | Personal Services
Credit Cards | Services
Frederick, MD USA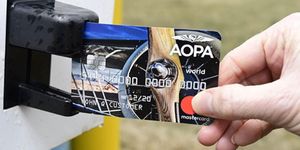 Contact This Seller
Detailed Description
Top off your plane & your wallet with the best card for pilots.

The AOPA World Mastercard® offers Cash Back1 on auto & aviation fuel, at flight schools and FBOs and much more!  To learn more about the AOPA World Mastercard® visit http://www.aopa.org/creditcard

Cash Back1 is applied as a statement credit. 

*Certain points and purchases restrictions apply, see full Rewards Terms and Conditions for full details at AOPA.org/creditcard.

1 Rewards points can be redeemed for Cash Back or other items provided through AOPA Pilot Rewards. A Cash Back redemption is applied as a statement credit. The statement credit will reduce your balance but you are still required to make at least your minimum payment. A minimum of 2,500 points is needed to redeem for Cash Back. Values for non-cash back redemption items such as merchandise, gift cards, and travel may vary.