For Sale
1981
CESSNA 421C
N605SR
421C-1041
Sturgis USA
For Sale
1981
CESSNA 421C
N605SR
421C-1041
Sturgis USA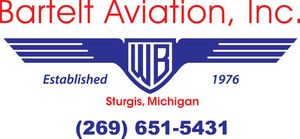 John Bartelt
1301 W Lafayette St
Sturgis, MI 49091 USA
Map It
Contact This Seller
General Specs (cont.)
6921
1056 SMOH
1056 SMOH
356 SNEW
356 SNEW
2214 lb
Used
2015
8
Additional Classifications
Detailed Description
1981 Cessna 421C - 6921 TT, 1056 SMOH by RAM, 800 IFCS, Garmin 600 EFIS PFD, SVT, GPSS, Dual GTN-750, GGTS-800 Active Traffic, XM WX, Color Radar, ADS-B IN & OUT Compliant, K-Ice, A/C, Spoilers, VG Kit, 8 Seats, Excellent Paint, Superior Maintenance History!
Avionics / Equipment
AVIONICS

The avionics panel was completely refurbished in 2015, which included the Garmin G600 PFD with Synthetic Vision, Dual Garmin GTN-750 WAAS GPS Systems, Garmin 330ES ADS-B Transponder, Garmin GDL-88 ADS-B in Solution, Flight Stream 210 Blue Tooth Connectivity, and a Custom Powder Coated Metal Avionics Panel Refurbishment. The present owner spent $62,301 performing these impressive avionics upgrades!

The Avionics Flight Deck also features three weather avoidance systems. The GDL-88 ADS-B in Solution, the Garmin GDL-69 XM Uplink Weather Solution, and Color Radar. These systems help provide an excellent understanding of the current weather conditions. In addition, the Flight Deck features multiple collision Avoidance Systems to enhance safety. The Garmin GTX-800 Active Collision Avoidance System and the Garmin GDL-88 ADS-B IN Solution.

Cessna 800B IFCS Integrated Autopilot System with Flight Director and Yaw Damper
Altitude Pre-Select
Garmin G-600 EFIS PFD / MFD System featuring Synthetic Vision
GPS Steering controlled through the Garmin G600
Garmin GRS77 AHRS – (Provides Attitude and Heading Information to the G600 PFD)
Garmin GDC74A Air Data Computer
Garmin GMA-35 Remote Audio Panel featuring (3) Light Marker Beacons
Garmin GTN-750 GPS – (#1)
Garmin GTN-750 GPS – (#2)
Garmin GDL-88 – (ADS-B IN Solution / Displays Datalink Weather and Traffic)
Garmin GTX-330ES Transponder – (ADS-B Out Solution)
Garmin GTX-327 Transponder
Flight Stream 210 Interface – (IPAD Blue Tooth Connectivity Solution)
Garmin GTS-800 Active Collision Avoidance System
Garmin GDL-69A XM Weather Uplink and XM Music
KWX-58 Color Radar
King KR-87 ADF Featuring RMI
Co-Pilot Instruments
Instrument Light Rings
Mid Continent TA-102 USB Charging Station – (Panel Mounted)

SUPER FEATURES

Known Ice Package featuring Pilot Side Glass Windshield
Air-Conditioning
SPA4000 Spoilers System – (STC SA4913NM)
Plane-Power Alternators – (Featuring a 3 Year Manufacture Warranty – Installed in May of 2020)
Plane- Power Voltage Regulators
(8) Place Oxygen System
VG Kit by Micro Aerodynamics – (STC SA5193NM)
406 ELT Modification
(3) Blade Hartzell Scimitar Propellers
Propeller Synchrophaser
Dual Astrotech LCD Flight Timers / Clock
Shadin Digiflo Digital Fuel Monitoring System
Bracket Air Filters – (STC SA71GL)
Rosen Sun Visors – (STC SA5137NM)
RAM Aircraft Vacuum Cooling Shroud Modification – (STC SA3721SWD)
RAM Aircraft Induction Hose Clamps Modification – (STC SE8338SW)
RAM Aircraft Engine Cooling Baffles & Improved Slip Joints Modification – (STC SA4592SW-D)
RAM Aircraft Engine Crankcase Modification – (STC SE8338SW-D)
RAM Aircraft Performance Modification with remarked engine gages – (STC SA5878SW)
RAM Aircraft Increased Ramp Weight 7610 LBS / Max Take Off Weight 7560 LBS – (STC SA5981SW)

ADDITIONAL OUTSTANDING FEATURES

Heavy Duty Brakes System
Windshield Defrosters & Control
Individually controlled overhead fresh air vents
Wing Tip Strobes
Individually controlled fresh air vents
Polished Spinners
Static Wicks
Individually Controlled Overhead Reading Lights
Passenger Seat Head Rests and Individual stowable Arm Rests
Janitrol Combustion Heater
Autopilot Disconnect Switch
Pilot and Co-Pilot Push to Talk Switches
Swing Out Coffee cup holders for crew – stowable under avionics panel
Airframe
TOTAL TIME

6,921 Hours Total Time
Engines / Mods / Prop
ENGINES

1,056 Since Major Overhaul by RAM Aircraft – Left Engine
1,056 Since Major Overhaul by RAM Aircraft – Right Engine

PROPS

356 Since New Hartzell Scimitar 3-Blade Propeller Upgrade – (September of 2017) – Left & Right
Interior / Exterior
EXTERIOR

White Base featuring Grey and Black Accents.
The aircraft is kept in a hangar when it is not being utilized.
The exterior is in excellent condition and features a lustrous appearance.

INTERIOR

New in 2015 - (This Custom Interior Refurbishment was $48,239)

Still has a Like New Appearance.

Custom Designed Black Leather Executive Style Luxurious Seating.

Custom Two-Tone Side Panels Featuring Black Leather and Mineral Wool Fabric Inserts.

The Cabin features (8) Seats of which one is a non-flushing potty.

Lavatory Privacy Curtain.

Ultra-Leather Headliner.

Pilot and Co-Pilot Seats feature matching Leather with Sheep Skin Inserts

Cabin Crew Dividers

Dual Folding Executive Writing Tables are featured in the rear cabin.

Rear Cabin Divider with magazine storage, and a

Rear Cabin Storage Cabinet and Macco Coffee Pot are also present.

The Cabinetry and Executive Writing Tables were completely refurbished with High Gloss Veneer.

The rear cabin also features two Mid Continent TA102 USB Charging Stations.
Remarks
ANNUAL DUE: February 1, 2021 

BI-ANNUAL IFR CHECKS DUE: November 1, 2021

FUEL CAPACITY: 241 Gallons 

USEFUL LOAD: 2214.10 Pounds

RAM AIRCRAFT WEIGHT INCREASES PER STC - (SA5981SW)

Increased maximum ramp weight to 7610 pounds
Maximum takeoff weight to 7560 pounds
Maximum landing weight is 7200 pounds
Maximum zero fuel weight is 6533 pounds

NOTATIONS / MODIFICATION OVERVIEW / RECENT IMPROVEMENTS

This is one of the nicest Cessna 421C aircraft we have had an opportunity to represent. The owner has completed multiple modifications and has spared no expense to maintain this aircraft properly. N605SR is a superior aircraft that presents an excellent opportunity!

PRICE: $525,000

Specifications are Subject to Verification upon Inspection. We accept trades and offer a variety of financing