2000 PIPER SARATOGA II TC (1998 - 2008)

For Sale
2000
PIPER SARATOGA II TC (1998 - 2008)
N327HP
3257152
NJ USA
For Sale
2000
PIPER SARATOGA II TC (1998 - 2008)
N327HP
3257152
NJ USA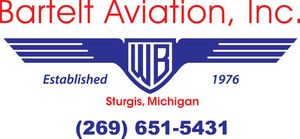 John Bartelt
1301 W Lafayette St
Sturgis, MI 49091 USA
Map It
Contact This Seller
General Specs (cont.)
2950
980 SMOH
206 SPOH
Used
2000
2018
IFR
6
Additional Classifications
Detailed Description
1999 Saratoga TC - 2950 TT, 980 SMOH, 206 SPOH, S-TEC 55X Autopilot, Altitude Pre-Select, Aspen EFD-1000 Primary Flight Display, Dual Garmin GTN-650 GPS, Garmin GTX-345 ADS-B IN and OUT Transponder, Garmin GDL-69A XM Weather Uplink, Garmin GMX-200 Mutli-Function Display, Avidyne TAS-600 Collision Avoidance, Co-Pilot Instrumentation, Back-Up Pilot Attitude Indicator, JPI Graphic Engine Monitor, 6-Place Oxygen, Factory Air-Conditioning, Club Seating, LoPresti LED Taxi / Landing Lights, Whelen Oriaon 500 LED Wing Tip Position Strobe Lights Upgrade, Electric Stand-By Vacuum, and a Reiff Engine Pre-Heater.
Avionics / Equipment
AVIONICS

S-TEC 55X Autopilot Featuring Altitude Hold 
S-TEC STD-360 Altitude Pre-Select
Aspen EFD-1000 Primary Flight Display
Garmin 340 Audio Panel with Marker Beacon & (6) Place Intercom
Garmin GTN-650 GPS 
Garmin GTN-650 GPS 
Garmin GTX-345 Transponder Featuring ADS-B IN and OUT
Garmin GDL-69A XM Weather Uplink - (Subscription Required)
Garmin GMX-200 Multi-Function Display
Avidyne TAS-600 Collision Avoidance System 
Co-Pilot Instruments featuring the S-TEC ST-180 HSI
RC Allen RCA22-7 Back-Up Attitude Indicator
Pilot Electric Trim
USB Power Outlet - (Panel Mounted)
Dual Push-To-Talk Switches

SUPER FEATURES

JPI EDM-730 Graphic Engine Monitor with Fuel Flow Feature
Factory (6)-Place Oxygen 
Factory Air Conditioning featuring a 2-Speed Ventilation Fan System
Hartzell 3-Blade Constant Speed Propeller featuring a Polished Prop Spinner
Wing Tip and Nose Recognition / Landing Lights
LoPresti Illumivation Lazr LED Taxi and Landing Lights
Whelen Orion 500 LED Upgraded Wing tip Position and Strobe lights
Low Profile Red Tail Strobe
Electric Stand-By Vacuum System
Ground Clearance Switch
Reiff Engine Pre-Heater System - (New in 2021)

ADDITIONAL OUTSTANDING FEATURES:

28 Volt System    
Back Lighted Rocker Switches
Heavy Duty Brakes System   
Pilot & Co-pilot toe brakes, and parking brake
Stainless Steel Control Cables  
Wing Flaps, electrically operated (0, 10, 25, 40 degrees)        
Stainless Steel Fasteners
Alternate Static Source   
Cylinder Head Temperature Gauge   
Exhaust Gas Temperature Gauge
Overhead Switch Panel   
Digital Ammeter
Electric Clock     
Outside Air Temperature Gauge  
107 gallons total capacity, 102 gallons usable   
Turbine Inlet Temperature and Fuel Flow Indicator
Windshield Defrosters & Control  
Individually controlled overhead fresh air vents   
Individually controlled fresh air vents - floor mounted
External Power Receptacle   
Utility Door for rear baggage access and cargo loading
Instrument Panel Lighting   
Forward Baggage Compartment Lighting
Map Lights     
Wing Tip Strobe Lights
Avionics Dimming    
Navigation Lights    
Cabin Reading Lights - four
Pilot and Copilot Cup Holder   
Forward Cabin Door Single-Lever Locking System
Pilot & Copilot Armrests   
Pilot/Copilot Adjustable Crew Seats with Lumbar Support
Pilot Vent Window    
Tinted Windshield and Windows
Super Sound Proofing   
Window Shades on Passenger Windows   

Engine Indicators/ Monitoring System with a Digital Display Monitor Panel with Percent Power, Fuel Management Including GPS Interface, Temperature Readings Including OAT, Electrical System Performance Indicators, and Exceedance Monitoring / Recording Feature.
Airframe
AIRFRAME

2,950 Hours Total Time
107 gal Fuel Capacity Volume


Preliminary Photos and Specifications.  More update dates will be posted soon. This outstanding aircraft is available because the owner is moving up to a Twin Engine Aircraft.
Engines / Mods / Prop
ENGINE

LYCOMING TIO-540-AH1A 
S/N L-10602-61A
300 HP
980 SMOH
2,000 TBO
Turbocharged

RECENT ENGINE MAINTENANCE IMPROVEMENTS OVERVIEW:  

139 Hours since Zephyr Engines performed an Engine Tear Down Inspection due to a cracked crankcase. The crankcase was repaired, and they installed a New Camshaft. See Engine Log Entries dated February 15, 2021 and April 1, 2021.  The Turbo Charger was also overhauled.

PROP

HARTZELL
S/N HC-I3YR-1RF
206 SPOH
3 Blades
Aluminum Blade Composition
Propeller Overhaul - (April of 2020)
Interior / Exterior
INTERIOR

6 Seats
Passenger Configuration
Luxurious Beige Leather featuring Harmonizing Side Panels
Deluxe Refreshment Bar
Executive Writing Table - (Stowable) 
Pleated Window Shades
Club Seating 
The Rear seat quick release feature for easy removal when extra cargo space is needed.
New Leather Side Panel in 2018.
New Carpet and Protective Floor Mats in 2018.

EXTERIOR

Bright White over Dark Blue Metallic featuring Beige and Light Spectrum Blue Accents.
The aircraft is kept in a hangar when not flown.
Remarks
RECENT MAINTENANCE IMPROVEMENTS OVERVIEW

Overhauled 6361 Magneto - 11/2/2021.
New Vacuum Pump - 08/06/2021.
Engine Tear Down Inspection completed by Zephyr Engines due to a cracked crankcase - 02/15/2021 and reinstalled on 04/01/2021.
Overhauled Turbo Charger 04/01/2021.
New Concord RG25-15M Battery - 04/01/2021.
Overhauled Air-Conditioning Compressor - 04/01/2021.
CW Piper SB 1006 - Remove Fuel Tanks Inspect Spar Inspection 04/01/2021.
CW Piper SB 1245A - Stabilator Control System Inspection 09/29/2020.
CW Piper SB 1244C - Aft Wing Attached Fittings Inspection on 09/29/2020.
CW Piper SB 1216B - Installation of new aileron ribs on 09/29/2020.
CW Piper SB 1161B - Installation of rib kits on 04/24/2020. 
Overhauled Propeller and reinstalled on 4/24/2020.

ANNUAL DUE: Fresh Annual in Process  

BI-ANNUAL IFR CHECKS DUE:  May 1, 2024


Specifications are Subject to Verification upon the Buyer's Inspection of the Aircraft. Optional aircraft transition flight training solutions are available. We accept trades and offer a variety of low fixed rate interest rate financing solutions up to 20 years. 

Bartelt Aviation does not endorse nor are we affiliated with Currency Finance, Avemco, or the Aircraft Cost Calculator that may be attached to our aircraft online sales ads.  Bartelt Aviation has the ability to refer you to an Aircraft Lender and an Insurance Agent that should be able to provide you with lower cost options and superior customer service.  Ask your Bartelt Aviation sales person for details.