For Sale
2016
SOCATA TBM 930
N24MY
1143
Muncie, IN USA
For Sale
2016
SOCATA TBM 930
N24MY
1143
Muncie, IN USA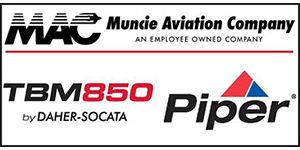 5201 N Walnut Street
Muncie, IN 47303 USA
Map It
Contact This Seller
General Specs (cont.)
1450
Used
N/A
Additional Classifications
Detailed Description
2016 Socata TBM 930. This outstanding aircraft comes with the fully integrated Garmin G3000 digital avionics suite – the first-ever touchscreen-controlled, all-glass flight deck designed for light turbine aircraft. The sky is calling! If you are interested or have any questions call a member of our Sales team today! - 800.289.7141 / sales@muncieaviation.com.
Avionics / Equipment
AVIONICS
G3000 Glass Cockpit w/ Synthetic Vision
GFC 710 Auto-Pilot
(2) 12" Primary Flight Display (PFD)
(1) 12" Multi-Function Display (MFD)
Enhanced Stability Protection (ESP)
Angle of Attack Sensors (Displayed on PFD)
GWX 70 Digital 4-Color Weather Radar - 10" Antenna
RVSM data package (RVSM Flight Test not included)
GDL 69 A Datalink XM/WX Weather Info & XM Audio
(2) GTX 33 Mode S Transponder
GRA 55 Radar Altimeter Displayed on PFDs
TAWS-B, Class B TAWS Worldwide Database
GTS 820 Traffic Advisory System (TAS)
DME Displayed on GDU 1040s
(1) GMA 36 Audio Panel
(2) GIA 63W NAV / COM / WAAS GPS
(2) GEA 71 Engine & Airframe Interface Unit
(2) GRS 77 Attitude and Heading Reference System
WX-500 Stormscope Displayed on G1000 Displays
GSR56 Datalink w/ Satphone
Chart View Option for GDUs

ADDITIONAL EQUIPMENT
Pilot Access Door
Dual Zone Environment Control
Dome Lighting
Aft Baggage Lighting
14 / 24V Power Outlets
(2) Bose Headsets
Interior / Exterior
INTERIOR
Premium Leather Seats & Side Panels
River Stone Seats w/ Polynesian Pearl Stitching
Flat Black Metal Finishings
Carbon Fiber Accent Trim

EXTERIOR
Base: Grey Metal
Trim: Payolle Blue
Bottom Base: Abeille Black
Remarks
INSPECTIONS
Annual Due November 2022
Replacement Engine on 10/27/2021 (882.3 TT)

GENERAL SPECIFICATIONS

Dimensions
Length: 35.2 ft
Wingspan: 42.1 ft
Height: 14.29 ft
Wheel Base: 9.56 ft

Usable Fuel Capacity
291.6 gallons

Maximum Approved Altitude
31,000 ft

Maximum Cruise Speed at FL280
330 ktas

Maximum Cruise at Long-Range Settings
252 ktas

Maximum Range (ISA, No wind, IFR, MTOW)
1,730 nm




Your aviation team.
Muncie Aviation Company has been serving the aviation community since 1932. As the world's oldest Piper dealer, you can rest assured that we know these aircraft from
top to bottom. We're committed to providing you with the best experience possible - from line service, to sales, technical support, parts, avionics and customer support.
We look forward to speaking with you, and helping you take the next step in your aviation journey.