For Sale
2000
PIPER SENECA V
N687AV
3449180
Sturgis, MI USA
For Sale
2000
PIPER SENECA V
N687AV
3449180
Sturgis, MI USA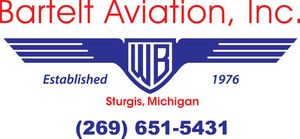 Bruce Harvey
1301 W Lafayette St
Sturgis, MI 49091 USA
Map It
Contact This Seller
General Specs (cont.)
1895
35 SNEW
35 SNEW
82 SPOH
82 SPOH
1124 lb
Used
Additional Classifications
Detailed Description
2000 Seneca V - 1895 TT, 35 SFNEW Engines, STEC 55, 530W, 430W, Radar, EX500 MFD, Skywatch 497, WX500, K-Ice, Air, O2!
Avionics / Equipment
AVIONICS

S-TEC 55 with Flight Director Autopilot Featuring Altitude Pre-Select 
S-TEC Yaw Damper
Sandel 3380 Slaved HSI 
Garmin GMA-340 Audio Panel Featuring 3 Light Marker Beacons
Garmin GNS-530W GPS - (WASS Enabled)
Garmin GNS-430W GPS - (WASS Enabled)
Garmin GI-106A VOR/LOC/Glideslope Indicator (#2)
S-TEC 451 DME
Garmin GTX-327 Transponder Featuring Mode C
Bendix / King RDR-2000 Vertical Profile Color Radar
King KRA-10A Radar Altimeter 
WX-500 Stormscope
Avidyne Flight Max EX500 Multi Function Display
Flightcom  DVR-300i Digital Voice Recorder
Skywatch 497 Active Collison Avoidance System
Shadin ADC-2000 Fuel Flow / Air Data Computer
Co-Pilot Instruments featuring STEC ST-180 HSI

OPTIONS / UPGRADES / OUTSTANDING FEATURES

Known Ice featuring De-Ice Boots, Three Blade Hot Props, and a Hot Windshield Plate
Airwolf Air / Oil Separators
Slick Start Ignition Boosters STC 1-7-2010
Polished Propeller Spinners
Factory Oxygen (6) Place
Factory Air Conditioning
Prop Synchro phaser
LED Wing Tip Landing Lights
Control Wheel Steering
Ident button on Pilots Yoke
Dual Toe Brakes
Electric Flaps
Hobbs Meter
Super Sound Proofing
Alternate Static Source
Adjustable Pilot Seat
Adjustable Co-Pilot Seat
LED Taxi Lights (Nose Gear)
Whelen Beacon on Vertical Fin
Whelen Wing Tip Strobes
Heated Pitot
Outside Air Temperature
Baggage Door
Avionics Master Switch
Auxiliary Power Receptacle
Heated Pitot
Avionics Master Switch
Airframe
1,895 Hours Total Time Since New
Engines / Mods / Prop
Engine:
35 Hours Since New Continental Engine  (Left) 
35 Hours Since New Continental Engine  (Right)

Prop:
82 Hours SPOH  (Left Propeller)
82 Hours SPOH  (Right Propeller)
Interior / Exterior
EXTERIOR

White over Bright Green Metallic Featuring Gold and Green Metallic Accents

INTERIOR  

Luxurious Interior 
Quartz Leather Seating featuring Harmonizing Side Panels & Carpeting
Club Seating
Deluxe Refreshment Bar
Executive Writing Table
Remarks
ANNUAL DUE:  February 1, 2021	
BI-ANNUAL IFR CHECKS DUE:  TBA / Fresh Inspection Scheduled	
ELT DUE:  March 30, 2021
USEFUL LOAD: 1,124.9 Pounds

NOTATIONS
Aircraft had a runway excursion and hit a taxi sign in 2003, see Top Gun Aviation Work Order 1330-08-2003.

Specifications are Subject to Verification upon the Buyer's Inspection of the Aircraft. Optional aircraft transition flight training solutions are available. We accept trades and offer a variety of low fixed rate interest rate financing solutions up to 20 years. 

Bartelt Aviation does not endorse nor are we affiliated with Currency Finance or Avemco that may be attached to our aircraft online sales ads.  Bartelt Aviation has the ability to refer you to an Aircraft Lender and an Insurance Agent that should be able to provide you with lower cost options and superior customer service.  Ask your Bartelt Aviation sales person for details.