Filter By
Back To Top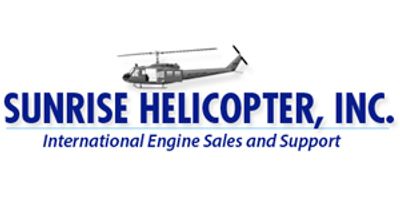 Sunrise Helicopter Inc
Hooks Memorial Airport
20803 Stuebner Airline #12
Spring , TX USA 77379
Contact Information
John Peacocke
(281) 251-8848
Since 1982, Sunrise Helicopter, Inc. has supplied aviation parts to both military and commercial customers.  Our company is located at Hooks Memorial Airport, approximately 30 miles north of Houston, Texas.  We operate out of two main facilities consisting of 16,000 sq. ft. of office space and 53,000 sq. ft. of component shops, engine teardown, and parts storage.

We primarily sell from our "on hand" stock.  For some engine lines such as the J52P6B/P8B and the Allison 250C28/C30, our stock coverage is approaching 100 percent with the added ability to provide complete engines, exchange accessories, and overhauled modules "off the shelf."  Though our parts inventory is comprised of many engine types, the J52, J85, F100, Allison 250, and T56/501 are our targets for extended coverage.

Sunrise Helicopter, Inc. is an approved turbine engine parts supplier to the following:

General Electric Engine Services
Pratt & Whitney
Rolls Royce Allison
Petroleum Helicopters
Air Logistics
The United States Department of Defense
The United States Navy
The United States Air Force
The Royal New Zealand Air Force
The Indonesian Air Force
We are willing to provide custom services for preplanned requirements.
Showing 4 engine listings most relevant to your search. Additional engine listings were filtered out that may be similar, click here to view.
Use the Side Filters to your left to select only the makes or model / groups relevant to your search.
Use the "Filter By" button at the bottom of your screen to select only the makes or model /groups relevant to your search.
CONDITION: Used
TT: Not Listed
NEW 250C20R ENGINE FOR SALE. All Modules and controls available for sale. More Info
CONDITION: Used
TT: Not Listed
SUNRISE HELICOPTER Purchases A250 C20, C28, C30, C47 engines and inventories. Sunrise Helicopter Purchases PT6T-3/3B/3D engines and inventories. SUNRISE... More Info
CONDITION: Used
TT: Not Listed
250C20B/ C28/ C30 ENGINES and Modules for sale, exchange and lease. All accessories and parts for exchange and sale. Extensive shelf stock of new, overhaul... More Info
CONDITION: Used
TT: Not Listed
WANTED: Allison 250 Series engines and inventories, A250-C20B, C28, C30 and C47. Please contact Sunrise Helicopter with all available inventories. More Info