Filter By
Back To Top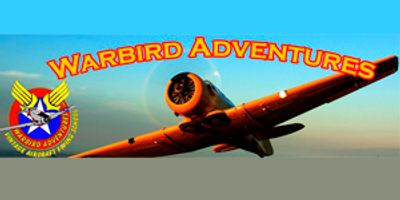 Warbird Adventures
4134 Aviation Dr
Kissimmee , FL USA 34741
The idea behind the company came to shape on a cocktail napkin back in 1997. Founders Graham Meise and Thom Richard decided to max out all their credit cards and buy a T-6. By January 7th, 1998 the company had been formed and the first aircraft purchased in California. It took 6 days to bring it home to Zephyrhills, Florida after which extensive modification had to be done. Four months later, they sat on the ramp with a shiny T-6 waiting for people to  come by. The original plan was to barn-storm around the country, but they ended up in Kissimmee by accident and set up shop out of the Flying Tigers Warbird Restoration Museum instead. The rest is history. The operation now has its own hangar and even its own Museum. Flying Tigers shut down in 2004 after Hurricane Charley so the new Kissimmee Air Museum was formed in its place. Flights are offered on a daily basis in their three SNJs and the exhibit is open to the public 6 or 7 days/week (depending on season). Over 30,000 satisfied customers have flown with Warbird Adventures. Perhaps you'll be the next lucky person to experience the flight of a lifetime...
Showing 0 aircraft listings most relevant to your search. Additional aircraft listings were filtered out that may be similar, click here to view.
Use the Side Filters to your left to select only the makes or model / groups relevant to your search.
Use the "Filter By" button at the bottom of your screen to select only the makes or model /groups relevant to your search.
No results found
We're sorry, there were no results for Aircraft with that search term or it may no longer be available for sale.
Perhaps one of the following options may help in your search.