Filter By
Back To Top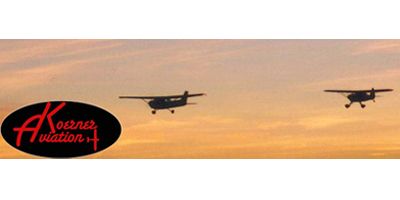 Koerner Aviation
1520 S Rt 115
Kankakee , IL USA 60901
Koerner Aviation was started much like many of these other small family owned airports by 2 brothers that just truely loved flying. Delbert and Martin Koerner from Cullom, IL, a small farm town, they settled down in Kankakee IL, and started the airport in 1927 the only aircraft they had was an old Standard biplane. 

The airport evolved into a good business for Kankakee. They purchased more aircraft as the demand called for it. In 1929 Delbert built a small airplane called a Heath parasol and he raced it in the 1930s National Air Race in Chicago and got second to none other than Ed Heath himself.

In 1934 Tragedy struck the family with the death of Martin Koerner in a motorcycle accident. They, as custom in those days, kept on going, and in 1937 they began construction on the new hangar on the North end of the field. A tornado came and hit the south end later in the year and tore up all the original  buildings and airplanes. What they salvaged they sold to build the new hangar. They purchased an Aeronca K that kept them flying while they built the business up again. They continued to expand to the new hangar with a full machine shop at one end and an aircraft maintenance shop at the other. During the war Delbert signed up to be a civilian test pilot and flew P-40s and B-24s. After his return he ran the flight school and charted trips through out the mid west in an old Twin Beech and a Cessna T50. Through the years they restored and maintained many different types of aircraft. With the tube and fabric skills of the 30s and the modern technology of today, alll the aircraft we roll out of the shop have superb workmanship and are of the highest quality.
Showing 0 aircraft listings most relevant to your search. Additional aircraft listings were filtered out that may be similar, click here to view.
Use the Side Filters to your left to select only the makes or model / groups relevant to your search.
Use the "Filter By" button at the bottom of your screen to select only the makes or model /groups relevant to your search.
No results found
We're sorry, there were no results for Aircraft with that search term or it may no longer be available for sale.
Perhaps one of the following options may help in your search.