Filter By
Back To Top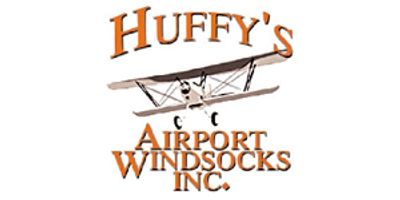 Huffys Airport Windsocks, Inc.
Po Box 288
Spencer , NE USA 68777
Serving the aviation, oil & gas, agricultural, medical, and military industries since 1985.
A leading manufacturer of windsocks and windsock frames:
- Committed to quality and competitive pricing
- Premium nylon with urethane coating and ultraviolet inhibitor finish
- Double stitched seams
- Heavy duty brass grommets; attaches to frame using nylon cable ties
- Both ends banded for maximum life
- Frames made of mild steel, powder coated, and built strong to last
- Maintenance free swivel assembly uses nylon bushings
- Custom screen printing available in house - we take great pride in our craftsmanship

Huffy's offers a wide range of windsock frames to fit all our windsocks. Shipping is not included.
Showing 9 part listings most relevant to your search. Additional part listings were filtered out that may be similar, click here to view.
Use the Side Filters to your left to select only the makes or model / groups relevant to your search.
Use the "Filter By" button at the bottom of your screen to select only the makes or model /groups relevant to your search.
Part #: Not Listed
Stock #: Not Listed
18" Dia. extended steel frame with 1" pipe mount (male threaded) Extends 30" into the windsock. Includes 2 LED bulbs and all electrical components;... More Info
Part #: Not Listed
Stock #: Not Listed
18" Dia. extended steel frame with 1" pipe mount (male threaded) Extends 30" into the windsock to allow for easier catch of the wind. More Info
Part #: Not Listed
Stock #: Not Listed
13" Dia. extended steel frame with 1" pipe mount (male threaded) Extends 19" into the windsock to allow for easier catch of the wind. More Info
Part #: Not Listed
Stock #: Not Listed
10" Dia. extended steel frame with ½ " pipe mount on 31" rod or plate mount on 38" rod Extends 12" into windsock Pipe mount is ½ " female threaded More Info
Part #: Not Listed
Stock #: Not Listed
6" Dia. extended frame with mounting bracket on a 24" rod with plate mount or ½" threaded pipe (female end) More Info
Part #: Not Listed
Stock #: Not Listed
8" Dia. extended steel frame ½ " pipe mount on 31" rod or plate mount on 38" rod Extends 10" into windsock Pipe mount is ½ " female threaded More Info
Part #: Not Listed
Stock #: Not Listed
18" Dia. extended steel frame with 1" pipe mount (male threaded) Extends 30" into the windsock. Includes 2 LED bulbs and all electrical components;... More Info
Part #: Not Listed
Stock #: Not Listed
Windsocks from Huffy's can be ordered with a customized print in any size. Our in-house screen printing facility offers a wide-range of options. We take... More Info
Part #: Not Listed
Stock #: Not Listed
WINDSOCK 36" x 144" orange, taper or barrel style $119.95 WINDSOCK 24" x 95" orange $62.95 WINDSOCK 18" x 80" ORANGE & WHITE $63.95 WIN... More Info