Filter By
Back To Top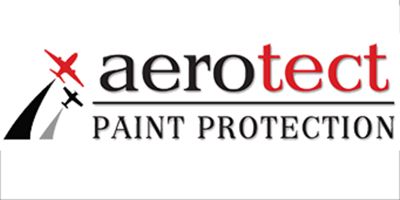 AeroTect
1935 Mckinley Ave Ste F
La Verne , CA USA 91750
The advantage is clear..... Since AeroTect opened it's doors in 1997, it has been our goal to provide quality service and products to protect the integrity of your aircrafts finish.

Our innovative product line includes precision-cut paint protection kits, designed to preserve the paint on the exterior of your aircraft, Pre Formed Radome Boot covers for you GA or Corporate Aviation needs, Clear Coated Leading edge tape designed to protect the leading edges of wings, temporary protection film designed to protect your aircraft while in maintenance, and navigation screen protection for your glass cockpit navigation systems.

During the past decade and thanks to customer demand, AeroTect has grown to include more than 150 authorized installers worldwide.

You will find AeroTect Products being installed by some of the best aircraft manufacturers in the world.
Showing 11 part listings most relevant to your search. Additional part listings were filtered out that may be similar, click here to view.
Use the Side Filters to your left to select only the makes or model / groups relevant to your search.
Use the "Filter By" button at the bottom of your screen to select only the makes or model /groups relevant to your search.
Part #: ATR-013
Stock #: Not Listed
Anti Erosion Radome Protective Boot Baron 55 and 58 with no radar More Info
Part #: ATR-011
Stock #: Not Listed
Anti Erosion Radome Protective Boot King Air 90, A90-E90, F90, 100, 200, 300, 350, 1300, C12 More Info
Part #: ATR-029
Stock #: Not Listed
Anti Erosion Radome Protective Boot Citation 500, 501 (I, SP), 550, 551, 552 (II,S,SP), 560 Encore, V More Info
Part #: FAK-210CC
Stock #: Not Listed
Paint Protection Film Kit Cessna 350/400 Corvalis (Columbia) More Info
Part #: FAK-009
Stock #: Not Listed
Paint Protection Film Kit Cirrus SR-22 G-2 More Info
Part #: FAK-009/G3
Stock #: Not Listed
Paint Protection Film Kit Cirrus SR-22 G-3, G-5 & G-6 More Info
Part #: ATR-005
Stock #: Not Listed
Anti Erosion Radome Protective Boot Citation 560 XL More Info
Part #: ATR-039
Stock #: Not Listed
Anti Erosion Radome Protective Boot Phenom 100, 200 More Info
Part #: ATR-026
Stock #: Not Listed
Anti Erosion Radome Protective Boot Eclipse 500 Radome Boot More Info
Part #: ATR-004
Stock #: Not Listed
Anti Erosion Radome Protective Boot Eclipse 500 Wing Tip Tank Boots More Info
Part #: ATR-031
Stock #: Not Listed
Anti Erosion Radome Protective Boot Lear 55, 60 More Info