Filter By
Back To Top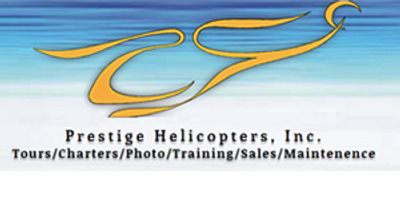 Prestige Helicopters
1 Corsair Dr Ste 111
Atlanta , GA USA 30341
Contact Information
Michael Russell
Since 1985, Prestige Helicopters has been Atlanta's premiere helicopter services provider.  Whether you want to see the city as you never have before, on one of our many Tour Options, in need of Charter Sevice or if you are an aspiring pilot seeking professional Flight Training, Prestige Helicopters is here to serve you.  We have always taken great pride in providing our students and clients with safe, reliable helicopters equipped with state-of-the-art avionics to allow for a comfortable flight experience.

Prestige Helicopters' mission is to provide a professional, enjoyable flight with a strong emphasis on safety and training.  Our pilots are trained in each aircraft above and beyond the FAA's high standards
 
Prestige Helicopters can broker the sales of a variety of used aircraft.  So no matter what your helicopter needs may be, if you are in the market for a new or used aircraft, we can help.
Showing 7 aircraft listings most relevant to your search. Additional aircraft listings were filtered out that may be similar, click here to view.
Use the Side Filters to your left to select only the makes or model / groups relevant to your search.
Use the "Filter By" button at the bottom of your screen to select only the makes or model /groups relevant to your search.
2016 Robinson R44 Raven II Helicopter N7085F SN13937 A/W Date 01/27/2016 Black Metallic Base Sand Metallic N#s Tan Leather Seats and Tan Interior Fac... More Info
Model Robinson R66 Year 2013 (AW Date 7/16/2013) Registration N466NF SN 0424 Hours 789 Price $649,000USD Contact Mike Russell 4... More Info
Make Robinson R66 Turbine Year 2012 Serial# 0087 Registration N460BG TTSN 1220 hours Location New Orleans, LA Corporate Use Aircraft No Damage... More Info
Make Robinson R66 Turbine Year 2012 Serial# 0128 Registration N806BG TTSN 682 hours NEW Main Rotor Blades 1-3-2020 @ 533.3 Hours Corpo... More Info
MAIN ROTOR BLADES & SPINDLES 04-16-2019 @ 2,011.9 hours TAIL ROTOR & HUB NEW 3-15-2016 TIME REMAINING 1,726 TOTAL TIME 2,125 Vertical Card Compass Dig... More Info
Model: Robinson R44 Raven II Year: 2006 (AW Date 06-27-2006) SN: 11312 N#: N68CG TTSN: 1,630 Hours Ext Color: Blue Metallic & Silver Trim G... More Info
New R66 Turbine SN1301 Delivery Mid October 2023 (Don't wait 2 years) More Info