Filter By
Back To Top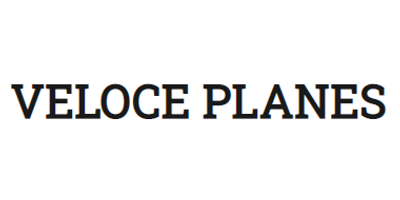 Veloce Planes
5377 39th Ave SE
Tappen , ND USA 58487
Veloce Planes – Italian for Speed

Fastest Plane for the Least Build Time and Money

Veloce is a new company formed by 3 companies coming together to build the fastest planes possible for the least amount of money while still having great quality and safety.

We accomplish this through composite airplanes, making them lighter, and more HP can go into speed, instead of just lift.

We also have our own engines, (one company selling since 2008) which are like clean slate engines for airplanes, but instead of making every part brand new, and having a 100k engine – we looked for as many new parts as possible that we could buy, that were already proven reliable and solid, and if we couldn't find any parts to match that bill, we made those parts ourselves. So we have $25k engines with 260 HP that are more reliable than certified engine technology from 1930's most companies still use.

We also are able to make the kits for less, because we use brazil labor prices.(2nd company making planes for 10 years) Overseen by someone who worked for Embraer for 20+ years.

The 3rd company is Doctor Jamie – who has been self employed since 2000 with multiple successful million dollar companies over his lifetime.

Together, they produce Veloce planes.
with 2, 4 and 6 seater planes, they are not a new start up, but all companies with proven track records.

The 4 seater has over 100+ planes flying in its lineage.

The 2 seater is months away from flying

And the 6 seat pressurized twin should be flying at Oshkosh, or within a few months of it. The design, flight testing, and layout are complete. The build has been started and is rapidly progressing.

Watch the webinar of the 6 place pressurized twin that can do 270 KTAS at 25,000 ft @ 22 GPH at $500k

For $700k, you can do 310 KTAS at 25,000 ft @ 30 GPH.

Check out our Video Webinar of the 600 at veloceplanes.com/600

Follow us on FB.com/veloceplanes for video updates of our progress.
Showing 10 aircraft listings most relevant to your search. Additional aircraft listings were filtered out that may be similar, click here to view.
Use the Side Filters to your left to select only the makes or model / groups relevant to your search.
Use the "Filter By" button at the bottom of your screen to select only the makes or model /groups relevant to your search.
Reg# New Registratio
TT: 0
Veloce 6 place pressurised twin - 1600 lb useful load - 160 gallons 270 KTAS @ 25,000 ft @ 22 GPH AV/MOV/Bio @ $650,000 - Piston 310 KTAS @ 25,000 ft @ 3... More Info
Reg# New Registratio
TT: 0
Want a complete flying experimental (EAB) 4 place plane that does 203 KTS @ 18,000 ft on 12 GPH- that is basically like a turbo cirrus SR22T in room, size ... More Info
Reg# New Registratio
TT: 0
2024 Veloce 600 Turboprop Plane 6 place pressurized twin 370 KTAS @ 35,000 Ft - Turboprop - 335 KTAS @ 25,000 ft @ 48 GPH JETA @ $1,200,000 - Turbopr... More Info
Reg# new registratio
TT: 0
6 place pressurized twin 350 KTAS @ 35,000 Ft - Turboprop - 325 KTAS @ 25,000 ft @ 48 GPH JETA @ $1,200,000 - Turboprop Included: AC, Garmin G3x dua... More Info
Reg# new registratio
TT: 0
Fastest Plane for Lowest Build Time and Price - mission to go fast and far for inexpensive? We are the best option. period. 2 engine options: Experime... More Info
Reg# New registratio
TT: 0
Want a complete flying experimental (EAB) 4 place plane that does 203 KTS @ 18,000 ft on 12 GPH- that is basically like a turbo cirrus SR22T in room, size ... More Info
Want a complete flying experimental (EAB) 4 place plane that does 230 KTS @ 24,000 ft on 16 GPH- that is basically like a turbo cirrus SR22T in room, size ... More Info
The aircraft is designed to operate in NORMAL category. Design load factor is 4.4G positive and 2.2G negative. Maneuvers must not exceed these limits. Maxi... More Info
Reg# Not Listed
TT: Not Listed
2016 - G2 FOR $150K (BUILDER TOOK A WHILE TO BUILD) 145 KTAS ON 9 GPH EXPERIMENTAL IO 360 - DUAL P MAG - PRE HEAT - WITH CYLINDER BANDS AND OIL COOLER H... More Info
Reg# N150JK
TT: Not Listed
4 PLACE - KIS TR-4 - 2007 260 HP AEROMOMENTUM ENGINE 100+ HOURS ON THE NEW ENGINE GRT AVIONICS 180 KTAS AT 12 GPH TOP AND CRUISE NEEDS $10K NEW INTERI... More Info