Filter By
Back To Top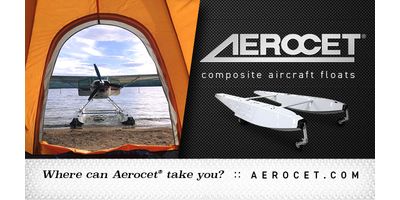 Aerocet Incorporated
PO Box 2119
Priest River USA 83856
We are floatplane people with a tremendous background in composite aircraft structures. We have utilized this knowledge to produce a composite float that offers an unmatched quality to our selective float flying industry.

Our entry into this market demanded we address the failures of previous composite floats. Due to improper use of materials and poor hydrodynamic design, a stigma needed to be overcome. But, since our certification over fifteen years ago, critics and skeptics alike have come to appreciate the new-found quality of composite floats.

Float owners and operators are our biggest research database, and their opinions are the most respected. Our float design comes directly from what they require and what they would like to see improved, and with the development of new models, their desires will continue to be met.

We have built an outstanding reputation of being the company that will go the extra mile for our customers, and we would love to provide you with a set of floats that will prove to be unrivaled.
Showing 13 part listings most relevant to your search. Additional part listings were filtered out that may be similar, click here to view.
Use the Side Filters to your left to select only the makes or model / groups relevant to your search.
Use the "Filter By" button at the bottom of your screen to select only the makes or model /groups relevant to your search.
Part #: Not Listed
Stock #: Not Listed
Aerocet® Model 2200 Straight Floats Treat your light aircraft to the sturdiest floats on the market. With Aerocet® 2200s, your adventure is awaiting! ... More Info
Part #: Not Listed
Stock #: Not Listed
Aerocet® Model 3400 Amphibious Floats With the ability to land on both land and water, our amphibious mid sized aircraft floats offer limitless possibi... More Info
Part #: Not Listed
Stock #: Not Listed
Aerocet® Model 3500L Straight Floats Aerocet® 3500L series floats offer unmatched performance in the straight float category. With hundreds of sets in... More Info
Part #: Not Listed
Stock #: Not Listed
AEROCET, INC. If You See A Set Of Aerocet Straights For Sale In This Column, They Are Probably Upgrading To Aerocet Amphibs. Isn't It Time You Took A Look ... More Info
Part #: Not Listed
Stock #: Not Listed
AEROCET, INC. CARGO Pods For Cessna 206's Reasonably Priced. New Manufacture. Fully STC'd And PMA'd. https://aerocet.com/products/cessna/ CESSNA 206 ... More Info
Part #: Not Listed
Stock #: Not Listed
AEROCET, INC., NEW Replacement Float Parts. Competitively Priced, Improved Design. Spreader Bars, Deck Fittings Wirepulls, Eyebolts, Struts, Spacers, Front... More Info
Part #: Not Listed
Stock #: Not Listed
AEROCET, INC., NEW Replacement Float Parts. Competitively Priced, Improved Design. Spreader Bars, Deck Fittings Wirepulls, Eyebolts, Struts, Spacers, Front... More Info
Part #: Not Listed
Stock #: Not Listed
AEROCET, INC., NEW Replacement Float Parts. Competitively Priced, Improved Design. Spreader Bars, Deck Fittings Wirepulls, Eyebolts, Struts, Spacers, Front... More Info
Part #: Not Listed
Stock #: Not Listed
AEROCET, INC., NEW Replacement Float Parts. Competitively Priced, Improved Design. Spreader Bars, Deck Fittings Wirepulls, Eyebolts, Struts, Spacers, Front... More Info
Part #: Not Listed
Stock #: Not Listed
AEROCET, INC., NEW Replacement Float Parts. Competitively Priced, Improved Design. Spreader Bars, Deck Fittings Wirepulls, Eyebolts, Struts, Spacers, Front... More Info
Part #: Not Listed
Stock #: Not Listed
AEROCET, INC. CARGO Pods For Cessna 206's Reasonably Priced. New Manufacture. Fully STC'd And PMA'd. https://aerocet.com/products/cessna/ CESSNA 206 ... More Info
Part #: Not Listed
Stock #: Not Listed
AEROCET, INC. If You See A Set Of Aerocet Straights For Sale In This Column, They Are Probably Upgrading To Aerocet Amphibs. Isn't It Time You Took A Look ... More Info
Part #: Not Listed
Stock #: Not Listed
Aerocet Model 1500 Amphibious Floats: Cub Craftors More Info